Buy comfortable furniture
If you work from home full-time or plan to spend a large amount of time in your home office space, it's important to choose a chair and desk that are comfortable.
Picking a beautiful desk or an aesthetic chair are important to making the room look good, but in this space functionality should take precedence and getting a chair and desk to help with proper ergonomics will be best for you in the long term.
Picking the Perfect Chair
When picking out a chair, looking over the qualities of the chair is important. An adjustable height, a reclining seat, armrests and seat depth are all important characteristics to investigate.
If staying active while working keeps you more productive, getting a walking desk, standing desk or even using a balance ball to sit are great options. Walking desks are especially useful if finding the time to exercise isn't easy.
Pay extra attention to the room's lighting
A dark room is good for sleeping or for watching television, but it's not easy to concentrate on the proposal that's due tomorrow when you're fighting heavy eyelids and a tired mind.
With the right lighting, it's much easier to get through a late work night. Overhead lighting isn't all you need. Get a bright task lamp for your desk or place floor lamps throughout the space.
The brightness in the room doesn't just need to come from artificial light - windows and natural lighting are also a nice way to keep the room well-lit and open. So, if you can, factor in plenty of windows to your custom office design.
If possible, give extra thought to the lighting and window placement in the room as well. This can help with avoiding glares on the monitor or keep the light from blinding you during the sunrise or sunset.
Want that beautiful desk lamp but don't want the cord to show running to it? There are plenty of desk options that have hidden-plugs. It's an innovative design and keeps your space clean and beautiful.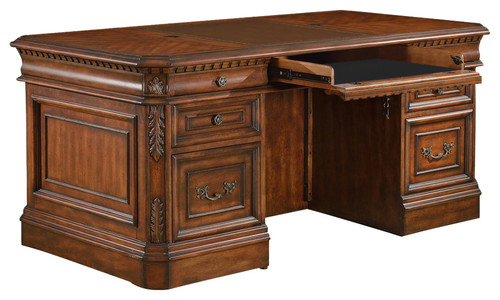 Choose furniture with storage space
The flat-table desk at the furniture store may look stylish and modern, but once it makes its way from the showroom to your house, its appeal could start to fade as you begin to organize and have to find places to hide paperwork and files.
Without drawers, cabinets or bookshelves, it's possible to find your sleek, modern office will turn into an unorganized mess. Planning on having at least one or two pieces of furniture with storage is a good way to keep messes at bay.
A wall to floor bookshelf is a wonderful way to store books, but can also work as a great decorating tool by showcasing personal items, classic books and accolades. It will also leave your desk looking clutter-free.
Built-in storage is a great way to create the perfect workspace. Just keep in mind that built-in shelves limit your ability to rearrange a room, so if keeping things in the same location makes you antsy, then invest in some high quality shelving that can easily be moved by you and a friend.
Keep the space clean
It's always a good idea to keep your desk free of old coffee cups and snack wrappers, but keeping a clean space in a work area is much more than literal cleanliness. It also means keeping the space organized and avoiding any clutter.
One of the simplest yet most effective ways to de-clutter is to cover any wires and cables coming from electronic devices. Hide any cords as much as possible.
Not only does keeping them covered keep the room looking sleek, but it also means you or someone else is less likely to accidentally run over the cords and unplug or tear them.
Starting the work day fresh is also much easier if you know where to find everything and don't have to waste portions of the day searching for a specific paper, book or file.
Use baskets and boxes to manage paperwork and use bright colored organizers to liven up the room. Color-coding the boxes is a way to give the space extra pizzazz as well as to help you know what each organizer holds.
Finally, remember to go through old papers at least semi-annually to keep the space from overcrowding. If you know you no longer need certain project files, make an effort to scan, shred, and toss them early on, instead of letting them pile up and become a major project in the future.
Sometimes the best way to keep it clean is to keep the office design simple like this one featured below.
Don't leave the walls blank
A small work cubicle may not be an inviting place to sit, but that's what makes a home office unique. Unlike a big, corporate office, it's not only a space for working but a space to collect your thoughts and prioritize your goals and aspirations.
Creating a warm, inviting area can be done by using soft cream or gray toned walls. A simple change can make the feel of the office welcoming while allowing the space to stay professional and neutral.
Hanging up photos or art are also pleasant ways to inspire yourself. Use eclectic frames to hang your favorite quote or a painting from your favorite artist. If you collect art, use your office as a gallery for others and a place to reflect for yourself.
Changing a dull environment into a place where you want to be can make a huge difference in productivity and work happiness. It's easy to feel good about your work when you feel happy with where you are while you create.
If you regularly need a break from all the hardwork, it may be a good idea to add a bay window or small deck just outside of your custom home office. This gives you a nice area to retreat to when you need to collect your thoughts. This can also be feautred in when bringing in some natural lighting to the area.
Bring the outdoors in
Nothing is more calming or refreshing than a lush green garden, and because a workplace can sometimes come with a stressful feel, adding in decorative greenery is a way to bring the joy of nature inside.
Adding in a few potted plants throughout the home office can be stylish, but also practical. It will allow the space to feel more open and your mind to stay clear.
If you're designing a home office while creating a custom home in Colorado Springs, think about adding in extra windows or even doors with access to the backyard or a balcony.
By adding in a skylight or bringing the outdoors inside, it will help to break up the monotony of a busy workday by offering the opportunity to take a moment or two of peace to recollect and get started again.
No extra rooms? No problem.
Not every house has the luxury of extra room to house a home office, but that is OK. There are plenty of ways to add in an office space throughout the house without taking up a large area of living.
Find a nook in the living room, bedroom or even kitchen. There's always the option of ordering custom-built furniture to make any size of space useful.
Another option is to use the attic. If there's a loft, instead of a play area or extra living room, transform it into a serene working space. If privacy is an issue, this space could work to your advantage since family members are less likely to go to an area where there isn't much room to play or relax.
Just because there's not a ton of space doesn't mean a beautiful, functional work area isn't possible, it just takes more thought, organization and planning.
No matter the size of the office, concentrate on finding what inspires you and use that to create a productive space for yourself.